Bilingual Poetry Reading, Arabic-English: Jawdat Fakhreddine, Lighthouse for the Drowning
Join us for an
Arabic-English poetry reading
by Lebanese poet
Jawdat Fakhreddine
and translator Huda Fakhreddine
to celebrate the publication of

Lighthouse for the Drowning
"Presented bilingually, this first US publication of Jawdat Fakhreddine—one of the major Lebanese names in modern Arabic poetry—establishes a revolutionary dialogue between international, modernist values and the Arabic tradition. Fakhreddine's unique voice is a breakthrough for the poetic language of his generation—an approach that presents poetry as a beacon, a lighthouse that both opposes and penetrates all forms of darkness."
Jawdat will read his poetry in the original Arabic, and Huda will read her translations in English. This is a chance to hear one of the major voices in contemporary Arabic poetry for the first time in English!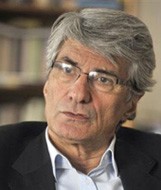 Jawdat Fakhreddine
was born in 1953 in a small village in southern Lebanon. A professor of Arabic literature at the Lebanese University in Beirut, he is one of the major Lebanese names in Modern Arabic Poetry, and is considered one of the second generation poets of the modernist movement in the Arab world. He earned an MA in Physics and taught at the high school level for more than 10 years. During this time he published a number of poetry collections and was encouraged by Adonis to work on a PhD in Arabic literature. Fakhreddine intermittently publishes articles and new poems in
al-Hayat
newspaper, which is an Arab newspaper published in London and distributed worldwide, and in
as-Safir
, one of the two major Lebanese Newspapers. He writes a weekly article in
al-Khaleej
newspaper, a widely distributed Gulf daily newspaper.
Lighthouse for the Drowning
is his first US publication of a full-length collection of poetry. He currently lives in Beirut, Lebanon.
Huda Fakhreddine
is a specialist in Arabic literature. Her work focuses on modernist movements or trends in Arabic poetry and their relationship to the Arabic literary tradition. Her book
Metapoesis in the Arabic Tradition
(Brill, 2015) is a study of the modernist poetry of the twentieth century Free Verse movement and the Abbasid
muḥdath
movement, as periods of literary crisis and meta-poetic reflection. She is interested in the role of the Arabic
qaṣīdah
as a space for negotiating the foreign and the indigenous, the modern and the traditional, and its relationship to other poetic forms such as the Free Verse poem and the prose poem. She also has an interest in Translation Studies, the politics of translation and its role in creating the image and status of Arabic literature, and especially poetry, in other languages. She holds an MA in English literature from the American University of Beirut and a PhD in Near Eastern Languages and Civilizations from Indiana University, Bloomington.
Event date:
Friday, August 25, 2017 - 6:00pm to 7:30pm
Event address:
Philadelphia, PA 19104-6304

$16.00
ISBN: 9781942683391
Availability: On Our Shelves Now
Published: BOA Editions - June 13th, 2017
---
Get rewards!
Now every time you spend $100 with us, get $10 off your next purchase! Sign up on your next visit!